Volkswagen electric vehicles provide far more than just clean performance and carbon-friendly emissions; they also qualify for up to $7,500 in federal tax credits.1
To claim the clean vehicle tax credit on a new electric car for sale nearby, visit our VW dealership near Chalco. A Baxter Volkswagen La Vista sales specialist will show you the lineup of Volkswagen ID.4 EVs eligible for tax savings, so you can choose your favorite option and drive home in an eco-friendly vehicle that'll keep on giving mile after mile and year after year.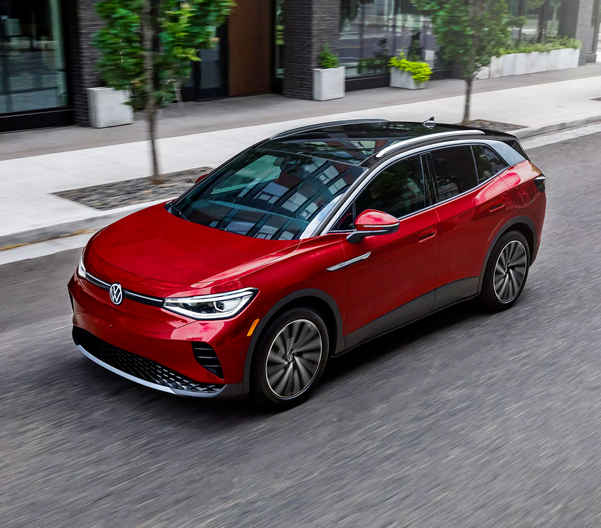 Which Volkswagen Models Are Eligible for EV Tax Credit?
Buy a new Volkswagen ID.4 electric vehicle in Nebraska from us and you may be eligible for an EV tax credit of up to $7,500.1 This federal tax credit was designed by the IRS to incentivize buyers and work toward building a cleaner environment for all. We're thrilled to offer tax-credit eligible EVs for sale like the new ID.4 SUV.
Here are the Volkswagen ID.4 models that qualify:
Model Year
2023
2023
2023
2023
2023
2023
Vehicle Description
Volkswagen ID.4
Volkswagen ID.4 Pro
Volkswagen ID.4 Pro S
Volkswagen ID.4 S
Volkswagen ID.4 AWD Pro
Volkswagen ID.4 AWD Pro S
Applicable MSRP Limit
$55,000
$55,000
$55,000
$55,000
$80,000
$80,000
Tax Credits for New Electric Cars Near Me
Wondering how to claim the federal EV tax credit after your purchase? Visit our Greater Omaha Volkswagen finance center for all the details. We'll take care of everything that we can on our end and discuss the necessary forms you'll want to fill out to qualify.
A new Volkswagen EV nearby is an amazing investment both now and for the future, so stop by our showroom today to buy a VW ID.4 Pro or ID.4 AWD Pro S today!
1 Information accurate as of publication and is subject to change. See dealer for details.